News & More
Oct 2, 2023
WELCOME FALL! Summer is lingering and last night the moon was overwhelmingly beautiful rising above the Toronto skyline, unbelievably big; my daughter and I ran around the streets trying to glimpse it between buildings, big and beautiful and outshining the streetlights.
I'm happy to announce that I'm playing at this year's Restoration Festival, which is a celebration of Art & Nature (my two favourite things) in Almaguin Highlands.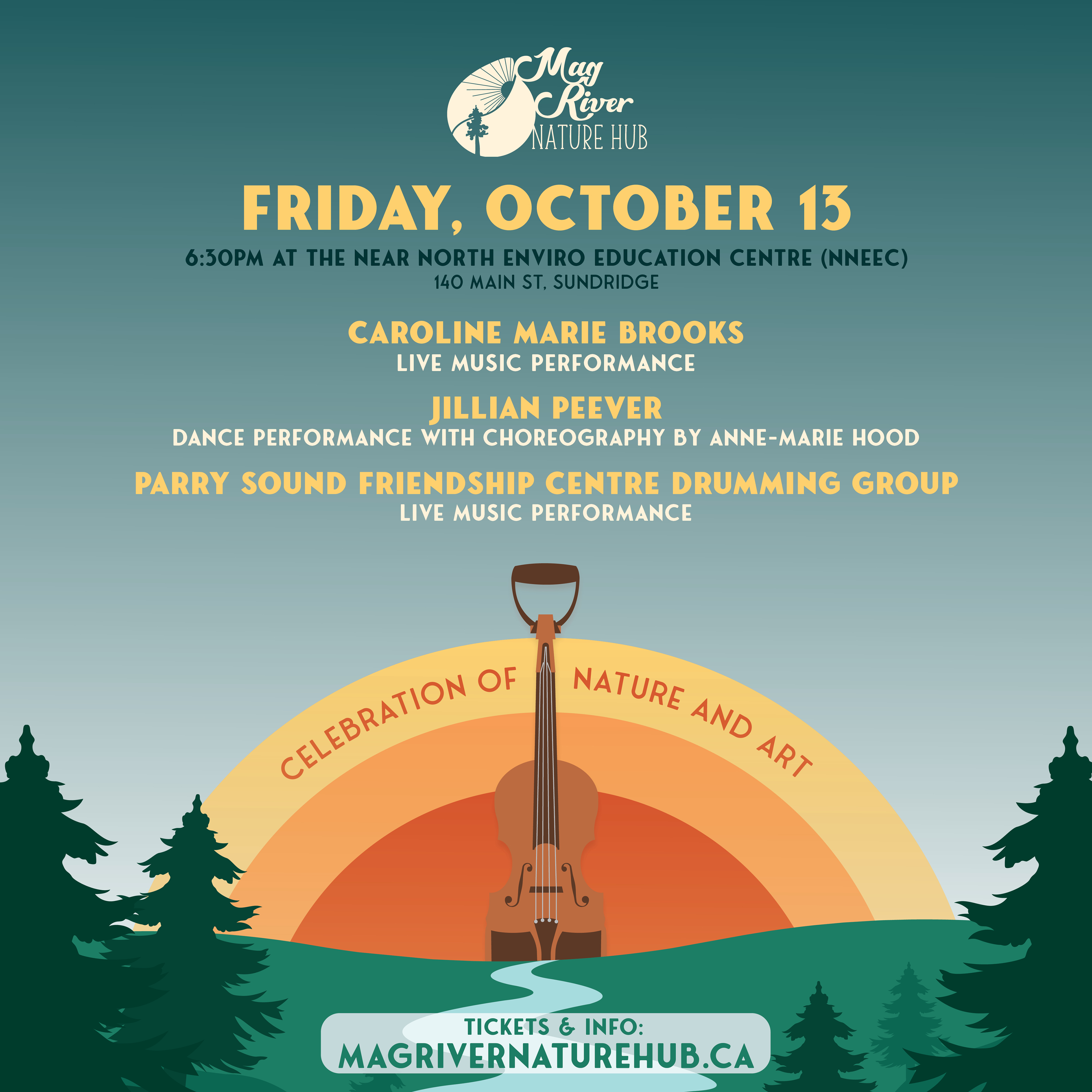 I play on Friday October 13th, along with the brilliant Jillian Peever and the Parry Sound Friendship Centre Drummers. There will also be lots of local nature enthusiasts promoting local nature events throughout the evening. Tickets are available NOW! 
There are also lots of other incredible activites happening over the weekend, including an Invasive Species Removal activity, a guided canoe trip, a seniors dance movement class, a performance by (MY FRIENDS!) Dala on Saturday night, and a sacred medicine walk to close out the festival on Sunday. 
All details are at magrivernaturehub.ca
Hope to see you out there xo
Caroline
June 6 2023
Tour is imminent!! I'm so excited for this run of shows with my friend Ben Kunder. We're kicking everything off at the Dakota Tavern on Wednesday June 14th - it's an early show and I'm bringing my faves! Steve Zsirai will be joining me on Bass and Dean Drouillard will be slinging guitars. I'm on right at 7pm, and Ben's full beautiful band goes on at 8pm. Please do join us, it's going to be so special.
For Tickets head to my tour page.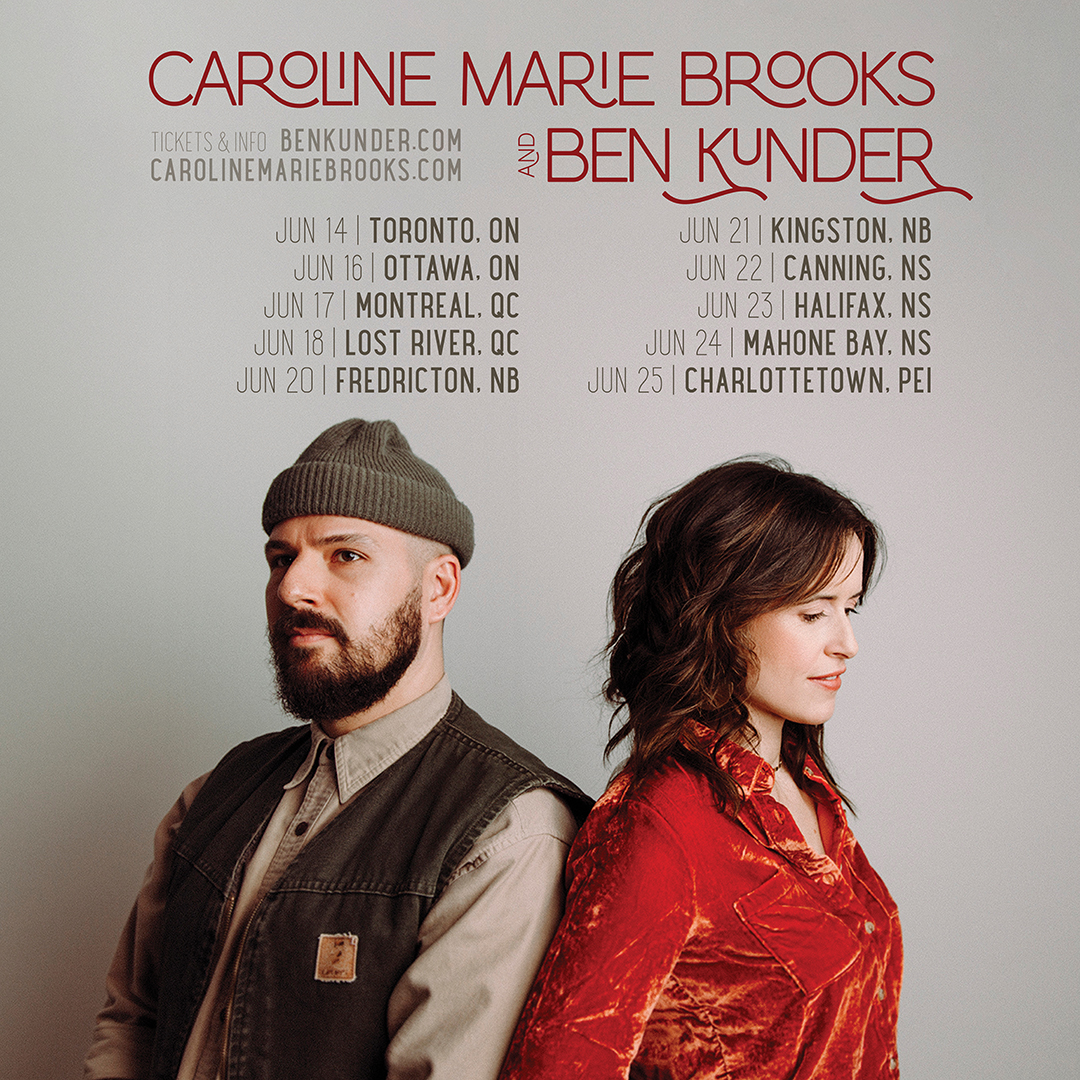 May 16 2023
To the Waves is a song that sits in the discomfort of having a partner who struggles with depression, and with the expectations placed upon us by society in general. It's about letting go, and about patiently waiting for your partner to come back to you and reminding them that you will always be there. After all, moonlight lives in dark; they are inextricably tied, a hope within the dark of night. It's a heavy tune for me, but an important one, and I was somewhat nervous about how it would translate visually.
The director Simon Paluck and I spent a lot of time talking about the visual representation of these feelings of deep sadness and hope wrapped up together, and we landed on the gorgeous projections of Connie Oreamuno - of water overtaking scenes as the depression and confusion takes hold and then receding in moments of hope. Simon did an incredible job bringing this song to life, and assembled the best team! 
Also…enormous thanks to Joe Cornfield for sitting so still during the shoot. He was a total champ.
I'm beyond grateful to the incredible team that put this together, and I hope you'll give them a follow. 
To the Waves
Featuring:
Caroline Marie-Brooks (@carobrooksmusic)
Joe Cornfield (@joecornfield)
Directed & Edited by Simon Paluck (@directedbysimon)
Projection Artist Connie Oreamuno (@connie.o)
Director of Photography: Ash Tailor (@tremblingwater)
Colour & Grade: Kevin Wu (@bykevinwu @artjail)
AD: Jada Poon (@byjadapoon)
Set Design & Construction: vjp.art (@vjp.art)
AC/Grip/God: Bob Gundu (@bongundu)
Hair & Make-up: Janine Holmes (@idobeautyco)
Script Supervisor/PA: Sanchia Lashley (@sanspearean)
Production Assistants: Jordan Paluck (@gossamer_blue)
Made possible by funding from  @factorcanada 
May 11, 2023
Toronto! I'm playing my sweet hometown to kick off my Double Bill Tour with Ben Kunder. June 14th at the Dakota Tavern, and an early show too! 6:30pm doors, 7pm start. 
Grab your tickets now HERE, they're going to go quick
xox Caroline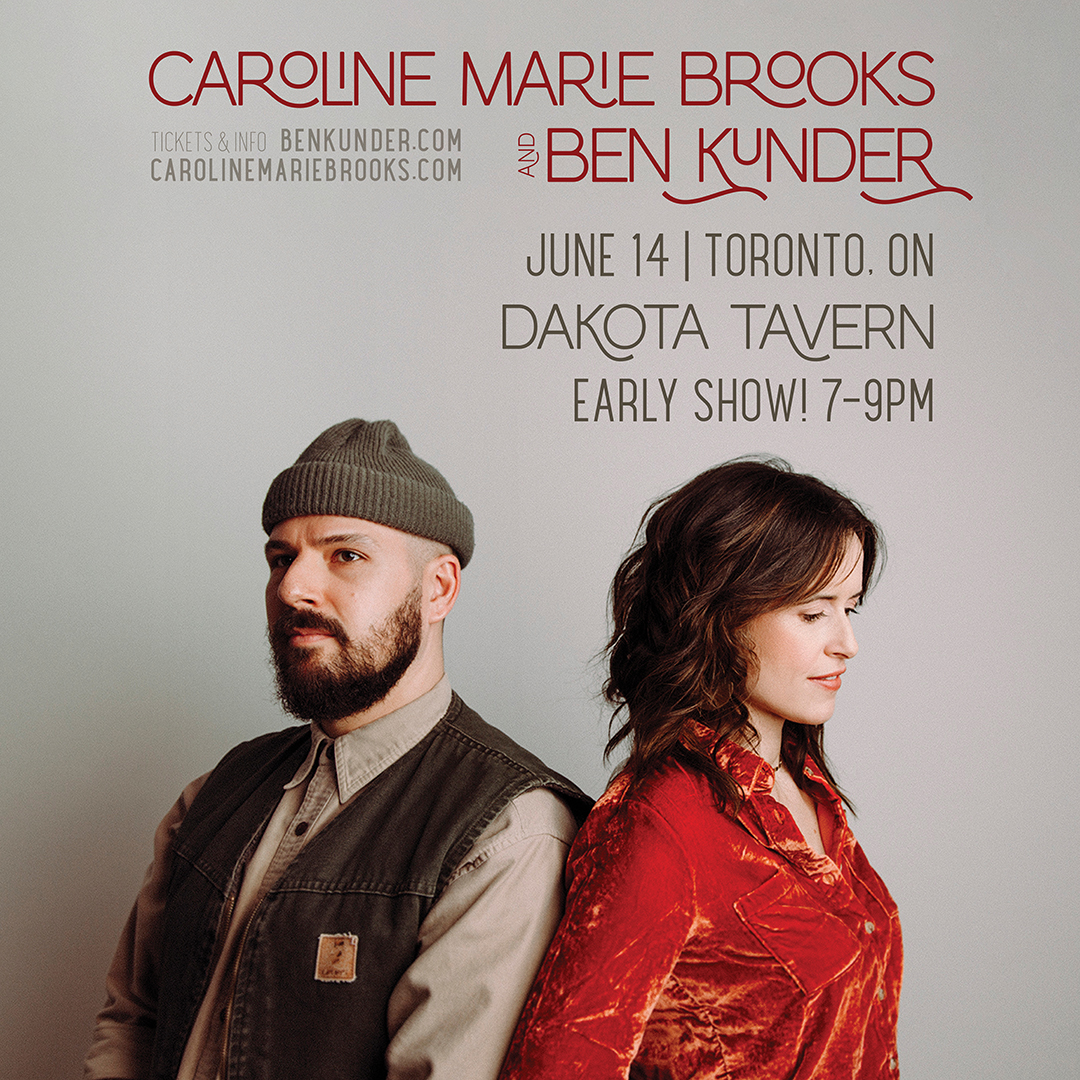 April 13 2023
EAST COAST TOUR ANNOUNCE!
I'm delighted to announce a co-bill tour with my dear friend and collaborator BEN KUNDER. This coming June, we're hitting the 401 East toward the ocean, and are playing a bunch of shows along the way…I really hope you'll join us! We'll each be playing a set of our tunes and collaborating on a handful of them together. Details and tickets on my TOUR PAGE.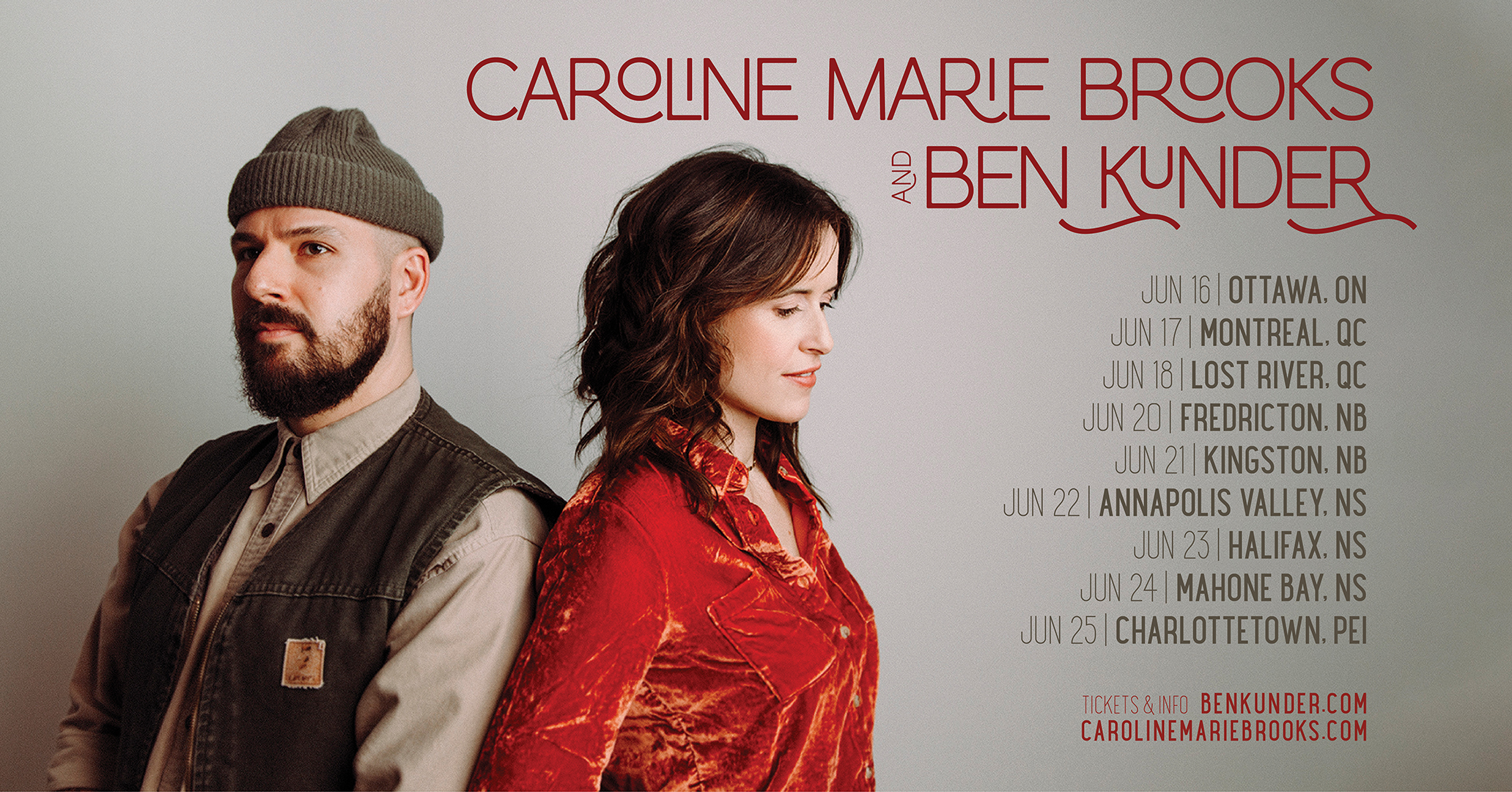 There has been lots of activity for me this spring including a wonderful tour with Good Lovelies out west, where we hugged big trees and played a series of intimate concerts. My family and I just had the most fun trip to the UK to vist our family - it's not often that I get to board a plane with just carry on baggage and wow I never want to go back to lugging gear through airports (HA!). Photo shoots and music announcements for Good Lovelies coming soon too…all very exciting. And getting in the garden, perhaps most importantly ;)
XO
Caroline
Jan 19 2023
I'm gently easing my way into 2023...
Despite the eternal slate grey of Toronto skies these days, I'm finding January to be beautiful in that dark, gloomy way. For me this time of year inspires hibernation, creative reflection and hope for the year to come. Lately I've been trying (**trying!**) to get up early before the kids are awake and before the bustle of the day takes over so that I can spend a little time alone reading and writing before dawn by candlelight. It's like a romantic gift to myself, ha! 
All this quiet reflection is helping me prepare for my first ever Banff Centre Artist Residency later this month! I'm working on a creative project that involves collecting field recordings of nature, of my family, of the soundscape of the places that I love and spend a lot of time in. More about that in the coming months, but for now it's been a nice place to put my mind, especially after a very busy Good Lovelies Christmas tour!
I'm happy to announce some February tour dates in Ontario. I hope you'll join me on the heels of my creative residency! For tickets and details head HERE.
xo Caroline
Dec 21, 2022
Christmas time is upon us! In the whirlwind of recent @goodlovelies activity, I've been slacking on the personal update front. All is well here - I'm getting set for a couple weeks of happy holiday chaos with my family here in Toronto, prepping tourtiere and the Christmas crackers. There's a lot to say about the last few months, in particular about the recent Good Lovelies Christmas tour (WHICH WAS AMAZING!). But that's for later!
For now I wanted to let you know that I'll be playing Hibernate Festival in Port Hope on February 11th, 2023. Tickets are on sale now! More on that to follow!
Happy 2023, I hope all is well with you.
Caroline
----
Aug 13, 2022
What a strange summer it has been - it's absolutely flying by. I'm headed out for two solo shows this week in Southern Ontario. I'm bringing along some of my absolute favourite musicians, Dean Drouillard and Steven Zsirai to fill out sound and for general friendship :)
Thursday Aug 18
Port Hope ON, Road to Cultivate
6pm Nickola Magnolia
7pm Caroline Marie Brooks
Saturday Aug 20
Gravenhurst ON, Muskoka Music Festival
12:30pm-1:30pm Songwriters in the round w/ AHI & I, the Mountain
5pm Caroline Marie Brooks Full Set
Hope to see you out there. I've got a bunch of fun t-shirts for sale at the shows this week, and will get them up on the website once I've had a couple weeks of downtime to unplug and weed the garden and harvest whatever actually made it through a growing season with an absent parent. You can check out my gardening and music adventures over on Instagram - @carobrooksmusic
Happy end of summer
xo Caroline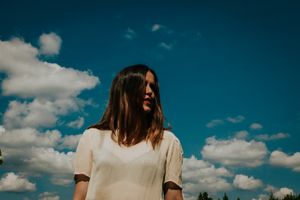 "Everything at the Same Time" available now!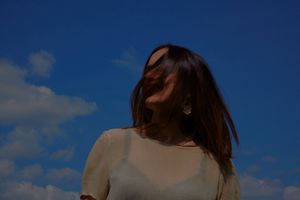 September 24, 2021
Hello Friends.
My album "Everything at the Same Time" is out today. You can find the music and share with your friends and family by clicking HERE.
These songs are coming to you straight from my heart; the words and melodies poured out of me, mostly within the last 18 months, and one squeaked in over the finishing line as we were finalizing the album last spring. 
I want to give a huge tip of the hat to my friend and long-time collaborator Jim Bryson, who with gentle guidance and openness (and some extra compromise on his side) helped me make the record that I wanted. It sounds more beautiful than I could have ever imagined, due largely to Jim's ears and ideas and patience with me. I mean I was patient with him too, but he waited it out while I came to sounds and ideas in my own time, as I made him go back in and edit sounds that weren't working for me, and as I asked him to make me yet another of his incredible coffees whenever I needed it (which was often.) It was such a beautiful and fulfilling experience to make this record with Jim, and I'll be grateful always. 
Aside from music I am revelling in my children being back at school and sneaking away to my big garden up north as often as I can. Harvest is ongoing and a constant miracle. My grandparents live nearby in town and I love visiting with them and hearing their stories over tea and cookies or whatever my 92 year old grandmother has managed to whip up. They do this thing where they talk about people that I don't know by first name, as if I'm on the up and up with the locals. It's so sweet. 
I love that I planted seeds in the late winter and that they're now plants heavy with fruit, ready for canning and preserving. Gardening and music are much the same to me; a miracle and a comfort. And also sobering when the record cycle is over and winter comes. But less of that now. 
Stay tuned and thanks for listening, always. 
XO CMB